One year after the initial lockdowns and stay at home orders across the groble, Americans are now driving a lot more, as measured by our miles driven index. More specifically, the last three weeks Advan's miles driven index captured an increase in traffic as high as 40% nationwide compared to the pre-pandemic levels in February 2020. As the vaccines are being rolled out people's confidence is picking up and in combination with certain COVID-related restrictions being lifted and the advent of Spring and Spring breaks, everyone seems to be making up for lost travel.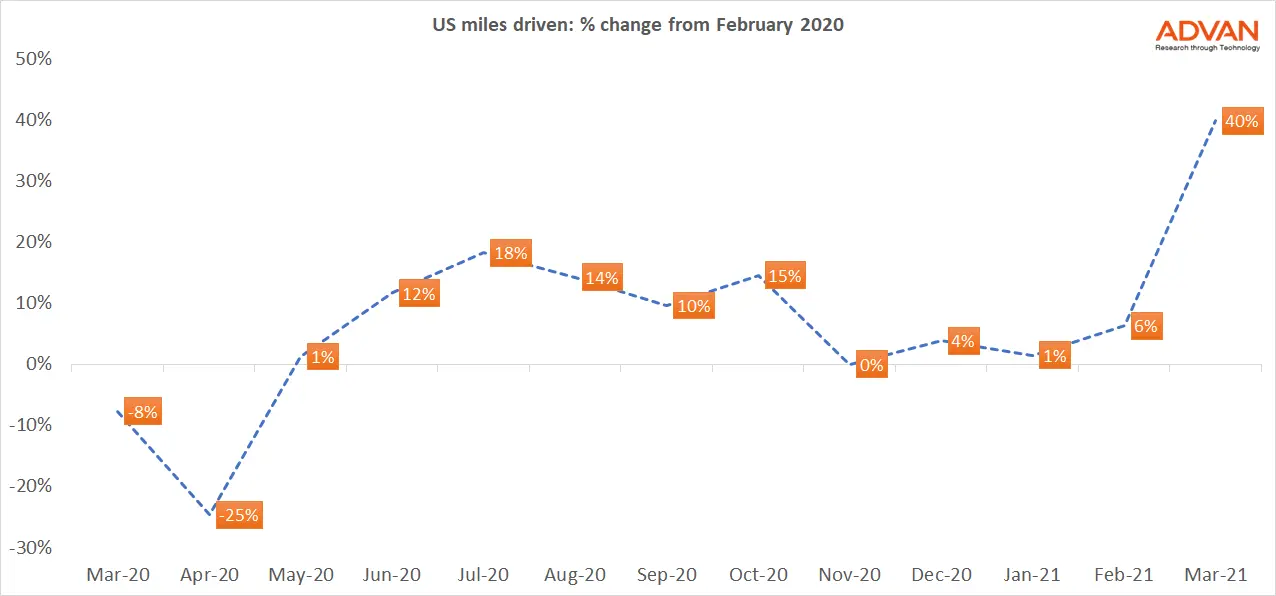 The trend is the same across multiple states. Looking at the miles driven index for the heavily impacted New York, after the sharp drop in traffic down to -44% the first month into lockdowns back in April 2020, the traffic the last 3 weeks is up 24% compared to what it was pre-pandemic levels. Same pattern for Texas, one of the first states to lift almost all the COVID restrictions such as mask mandate, restaurant occupancy limits and others: the traffic is up 36% in the last 3 weeks. For California and Florida, the traffic is up 10% and 19% respectively year-over-year.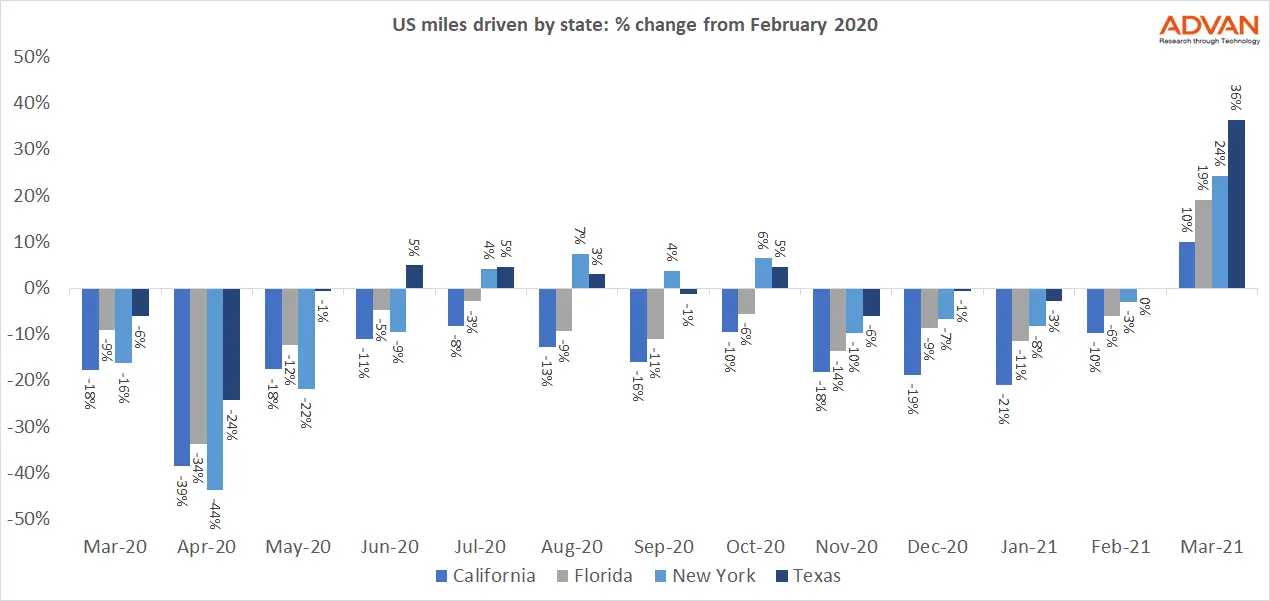 We looked at the Truck miles driven index and compared to car miles driven (Jan 7, 2020 is used here as the baseline date); shipments have remained mostly steady through the pandemic, these has not been additional capacity added, but there are no significant troughs either.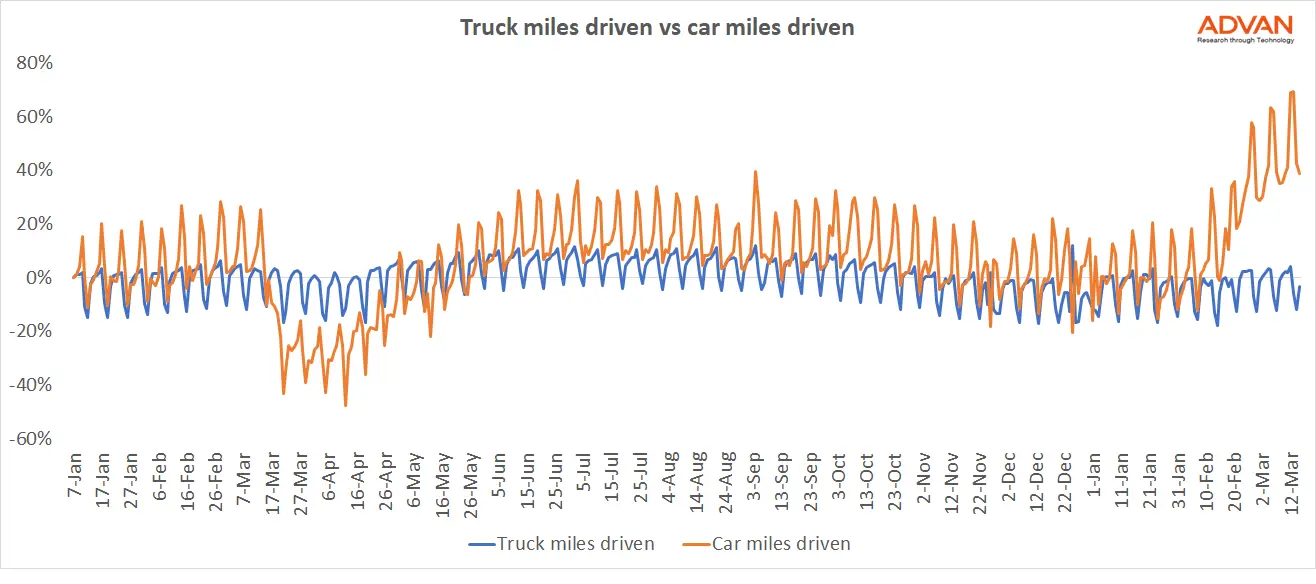 In Europe (including the UK), things are quite different as many countries enter a third wave of COVID infections and the lockdowns are being extended. In the UK and Spain, the traffic on the roads is over 60% down in the last 3 weeks compared to pre-pandemic levels. In Germany, after a busy summer with the traffic up 50%,during the last 3 weeks it dropped significantly to -46%.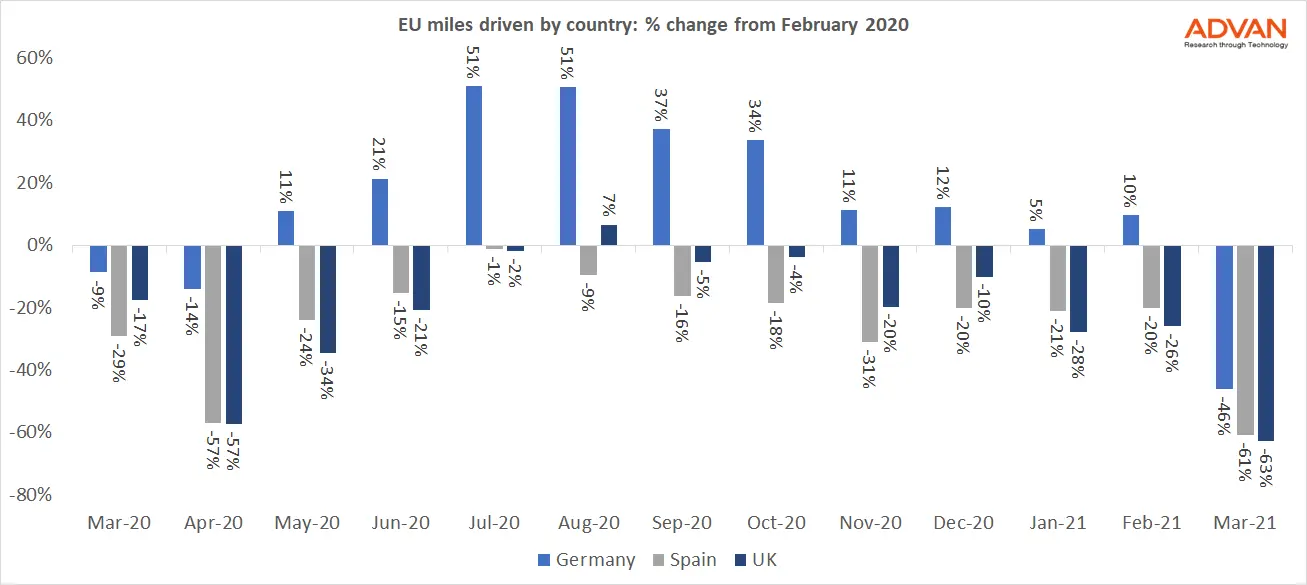 It is also interesting to see what traffic at Tesla charging stations tells us. We see that traffic in charging stations materially lags total miles driven. Given that most Teslas have lower range and are used mostly for commuting, we surmise that a material portion of the added mileage is for longer trips.