With a decrease in social distancing measures across most states, and markets reaching record highs, the past couple of weeks had felt like a tentative breakthrough after months of lockdown and uncertainty.
Yet news from the Fed today that they would hold rates steady for the foreseeable future and another heavy week for jobless claims led to a 5% drop in the Nasdaq. The fall of 1,400 points sent stocks towards their worst day for markets since mid-March.
Foot traffic data for key states also indicates that the recovery will not be a straight line. Even in the best case scenario, we are still far from returning to normal levels of activity.
As the chart below shows foot traffic for consumer discretionary businesses and is a good indicator for the extent to which people are returning to pre-COVID, "normal" behavior.
Our index shows that in Texas, which to date has had one of the strongest rates of recovery, foot traffic at discretionary businesses is still 30% down pre-lockdown levels. New York's path has been slower and other states such as Minnesota, have seen a more lumpy trajectory in their recoveries.
As social distancing reduces, and summer begins, we anticipate potential new spikes in cases in some states - though this may not be uniform across all - and a likely impact on foot traffic as a proxy for recovery.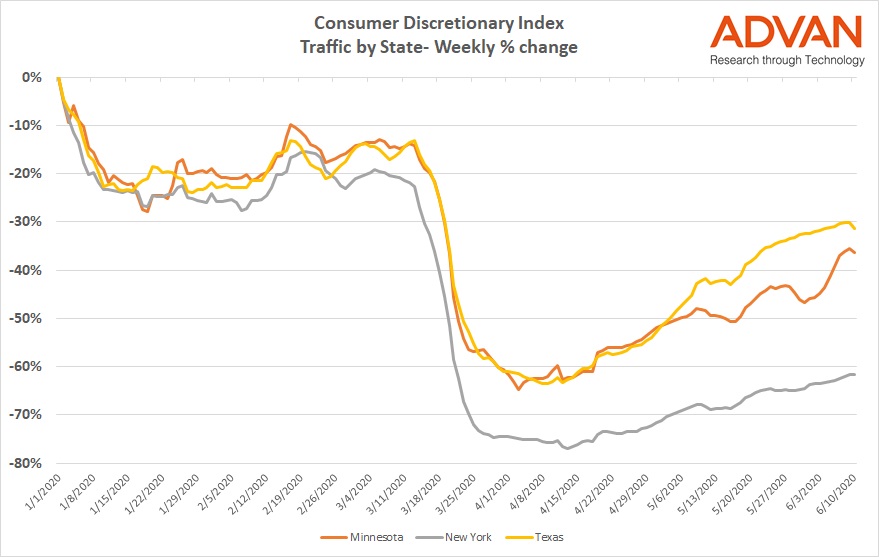 For more detailed data please contact us directly contact us.