As one of the sectors hit hardest by the pandemic, hotels, resorts and leisure facilities are hoping that the summer may offer a recovery in the form of reduced case numbers and fewer cancelled vacations. A critical period for the industry, a bounce back in July and August could help mitigate some of the losses from the past few months.
Our analysis of foot traffic, using our Hotel, Resort and Leisure Index, shows a very mixed picture across different states. The chart below shows the percentage change since the first week of 2020 for 5 key states: California, Florida, Nevada, New York and South Carolina.
Relying heavily on tourism, Nevada was the hardest hit of the states we analyzed, with foot traffic for this critical sector falling almost to zero from mid-March through the last week of May. At the end of May, however, many casinos started to reopen and the state saw a sharp uptick in traffic. As of last week, foot traffic was 60% below January levels - still low, but a significant improvement from three weeks earlier.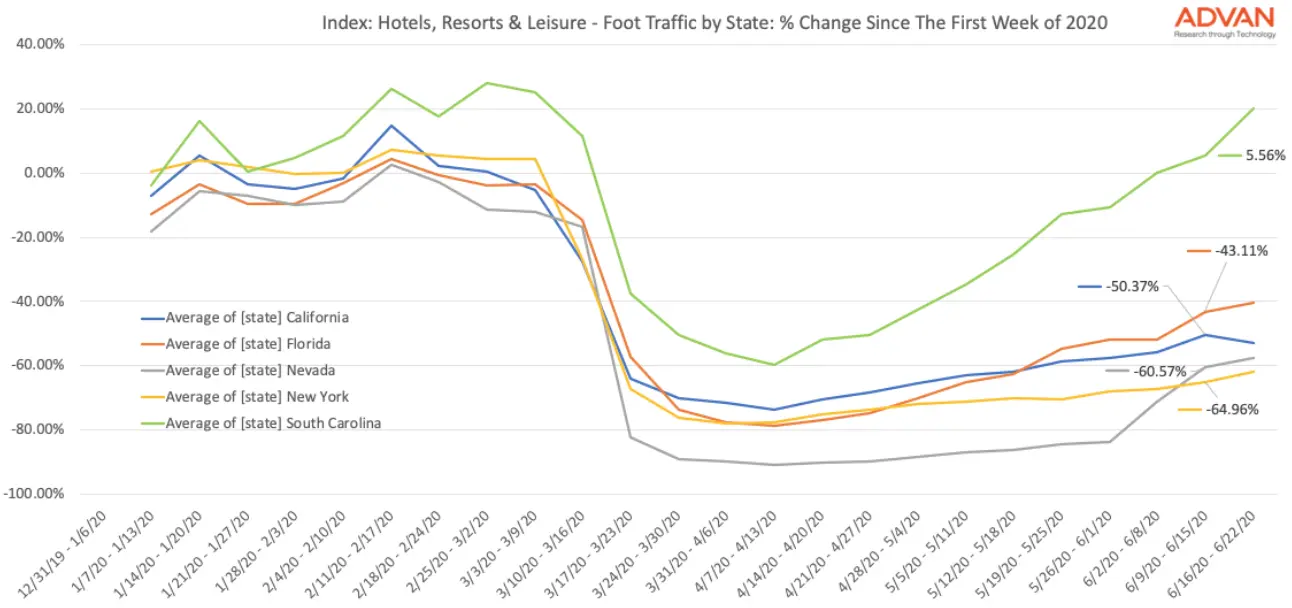 South Carolina, in contrast, at its nadir saw a drop of only 60% in foot traffic to hotels and resorts and has rebounded quickly, recovering to 5.6% above January levels.
Florida has also seen a steady recovery. Having fallen to 80% below January traffic, last week it had only 40% less traffic than levels at the start of the year as we head into the key vacation period.
New York and California have experienced a much slower return for visitor numbers. New York in particular continues to have the most depressed foot traffic numbers - still 65% down, with California 50% down.
Senior executives at the major hotel chains, such as Hilton Worldwide CEO Christopher Nassetta have talked about the impact that reduced business travel will have on their business in the medium term. If the tourism sector continues its tentative recovery over the coming weeks, it may hopefully bring some reprise to Hilton and its peers. We expect continued differences, however, between states as recovery rates and resurgences differ significantly across the country.
Join our webinar: Recovery or Relapse? Thursday June 25, 2020 @ 11am EDT