Automakers have been struggling to produce cars due to the global shortage of semiconductor chips first occurred in the early months this year. Fiat/Chrysler, General Motors and Ford and other big names in the industry announced they would reduce the pace of production to tackle this challenge. It did not take long and the impact of the idled factories is now reflected on the sales. Using employee counts are often times the right metric produced by our data to analyze industrial companies. What is also worth pointing out is that the aforementioned companies have correlation of over 0.86 with employee traffic and top-line revenue over the last 10 quarters.
Looking at the employee counts at the US plants, we saw different traffic trends among the manufactures. For Ford, General Motors and Toyota employee traffic has been decreasing since early October 2020. On the contrary, Tesla's employee counts seem to be mostly flat during the same period.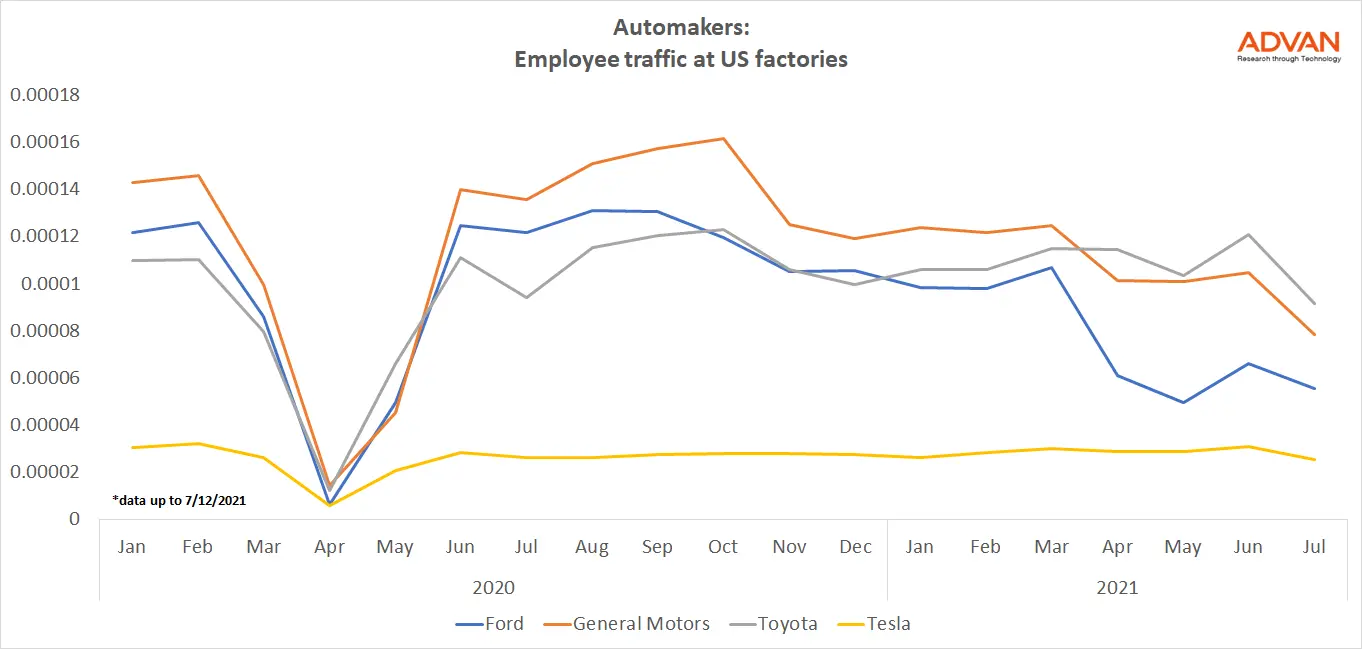 Earlier this month Ford reported a 27% drop year over year in its June sales in the US. The carmaker also said that it will be forced to cut or even stop production at some factories in July due to the chip shortages. Advan's employee counts show a 33% drop for the month of June and 49% drop in May, compared to January levels this year. For General Motors, employee traffic was down 18% in April and 15% in June.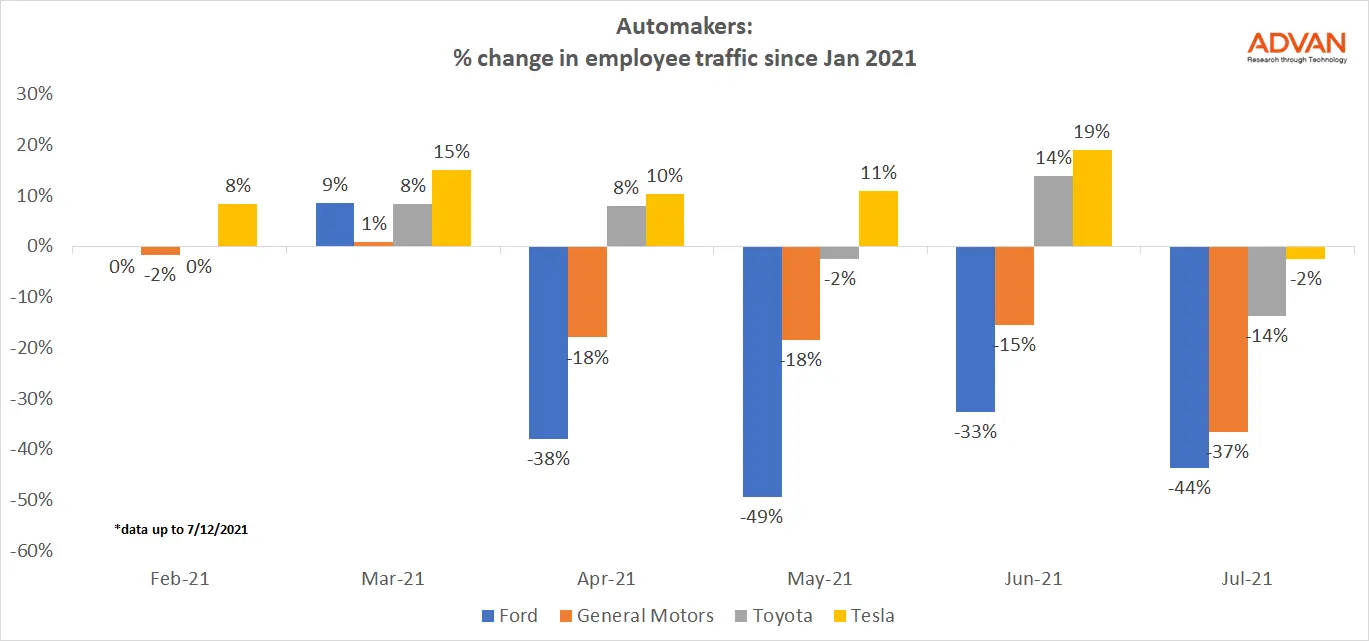 By contrast, Tesla and Toyota seem to have a similar trend in employee traffic. Specifically, Tesla announced this month that it delivered about 201,250 vehicles from April to June, more than double compared to the same period a year ago. Our data shows the employee traffic at the EV maker's plants ranged from +8% in February to +19% in June since January 2021. For the foreign competitor, Toyota, the traffic was up 5% on average since Jan 2021. According to this article from WSJ, Toyota beat its Detroit rival GM in vehicle sales in the second quarter for the first time in history.
Although we are halfway through July, our foot traffic data is signaling a drop overall for all the automakers so far. Ford is taking the first place with 44% drop in employee traffic followed by GM with a 37% decrease. Tesla seems to experience a slight decrease of 2% in employee counts while Toyota's employee mobility is down 14% so far.
Comparing Advan's traffic data for the 4 car manufacturers to a year-ago levels, one thing that is clear is that Ford falls behind its peers when it comes to employee counts over time and by extension to its sales numbers. The foot traffic at Ford's plants in May was at the same levels of this month a year ago while General Motor's and Toyota's was up 122% and 56% respectively in the same period. Tesla seems to be the most stable as far as employee counts out of the four with an average of about 15% increase year over year following the most recent data.