After the lockdown last spring that forced manufacturers from all sectors to halt production, auto makers now have to face another challenge: the global chip shortage due to the high demand on consumer electronics (laptops, gaming consoles, TVs etc.). The increased need for the technology devices along with the initial lockdowns and employee furloughs overwhelmed chipmakers and now are struggling to keep up with the surge in orders. Another factor was the faster than anticipated recovery in the second half of 2020 as several manufacturers in the sector ramped up the car production to rebound from the spring's shutdowns and increase the chance of hitting the year's target.
In an effort to tackle the crisis on chip shortages, carmakers announced they would cut production. Fiat/Chrysler was one of the first to idle some of its factories. It did not take long for Ford and General Motors to announce their plans to slow down the car production to deal with the limited supplies.
We looked at the data at the US plants for the 3 carmakers. In January, Fiat/Chrysler employee counts were down 35% year over year while at Ford's and GM's factories down 19% and 13% respectively.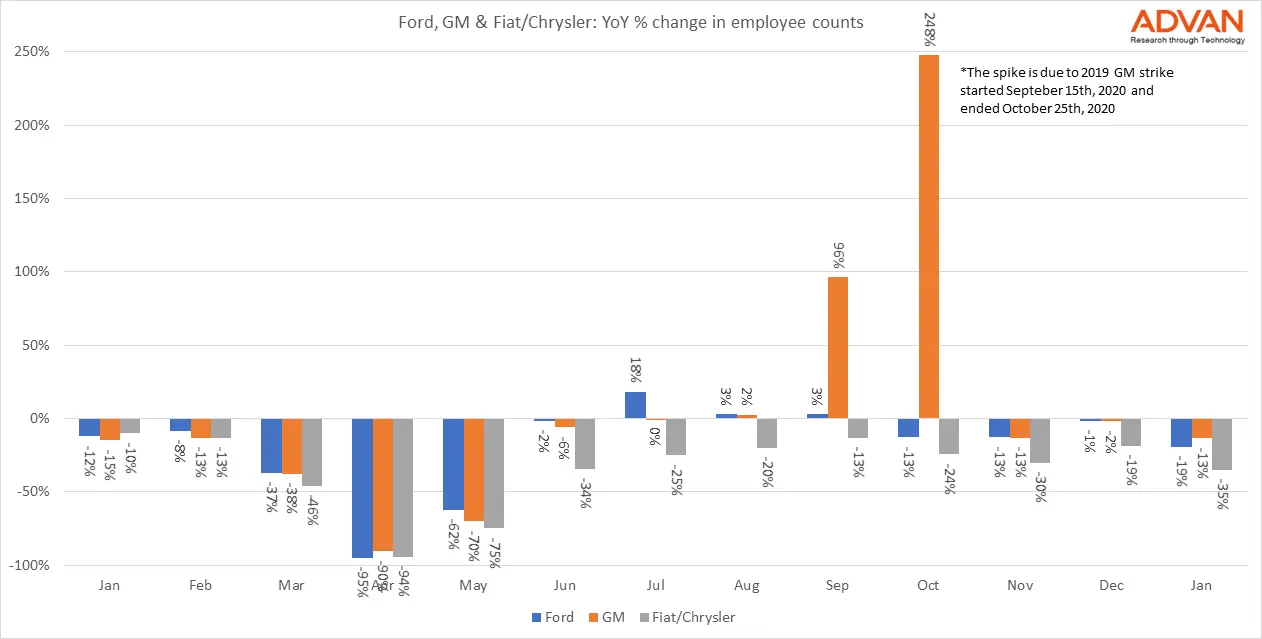 However, automakers are not the only ones to face shortages in supplies. Other industries struggle too, forcing them to production disruptions. Looking at the foot traffic data to Advan's Industrials index, we saw that employee counts have been decreasing since mid-November 2020 signaling a slow-down in production to other industries in the sector.