As people start to feel the threat of the new Delta Variant, Southwest Airlines is experiencing its effect firsthand. The COVID-19 pandemic shut down airports worldwide and Southwest was no exception, seeing an 89.65% decrease in foot traffic as measured by Advan between April 2019 and April 2020. According to The Dallas Morning News, "On April 14, 2020, only 87,534 passengers went through Transportation Security Information checkpoints in U.S. airports, the fewest number of travelers since the 1950s."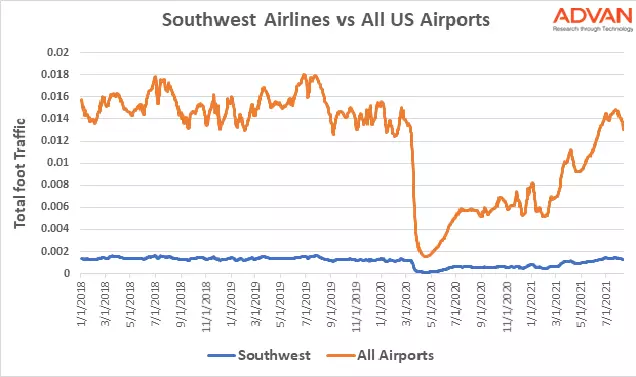 Once we began to emerge from the pandemic this spring, airport traffic skyrocketed all around with Southwest experiencing a peak of more than a 600% increase year over year, which follows, but slightly surpasses the trend we saw across all airports. As shown in the chart below, this narrative was flipped on its head in July 2021 where foot traffic in all airports, including Southwest saw declines.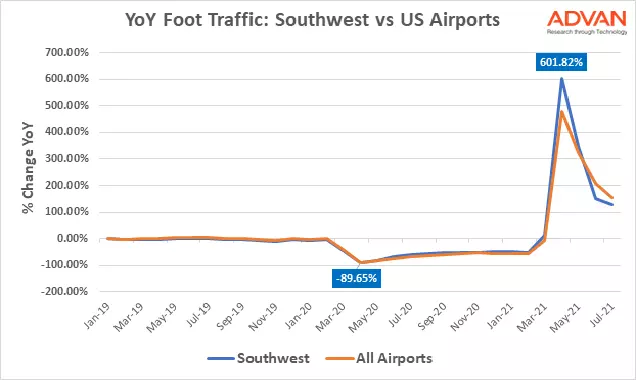 A recent Wall Street Journal article states "Southwest Airlines says the Delta Variant is hurting their business." According to Advan's data for July 2021, foot traffic across all airports was at 83% of the same month in 2019 while Southwest's foot traffic was at 91% of its 2019 levels. This shows that Southwest has shown some resilience performing slightly better than the industry as a whole, but the full effect of this remains to be seen.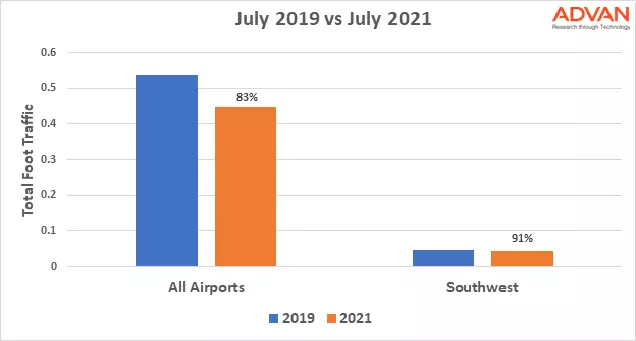 Moving forward, the airline and travel industries are expected to continue to be hindered by the Delta Variant, but we have seen the kind of changes that can occur once these factors are lifted and would not be surprised to see similar increases once we emerge from this. Interestingly, the Delta Variant does not seem to have had a statistically significant effect on a state-by-state for Southwest so far, but we will keep monitoring to see how it evolves.