In this third blog post of our summer series, we review two different measures of economic activity that can help paint an overall picture of consumer trends.
Measuring foot traffic at consumer discretionary businesses helps us understand the extent to which people are back to shopping for non-essentials - an indicator for increasing flexibility of movement and confidence in the outlook.
During April and May there was a massive year-over-year drop in visits to non-essential locations. This make sense given most stores were closed. As you would expect, this trend was most pronounced in states such as Nevada and New York. In California, and especially in Florida, the fall was not as dramatic. Even in April, foot traffic to consumer discretionary businesses in Florida was only down 55% year-over-year, compared to almost 80% in Nevada.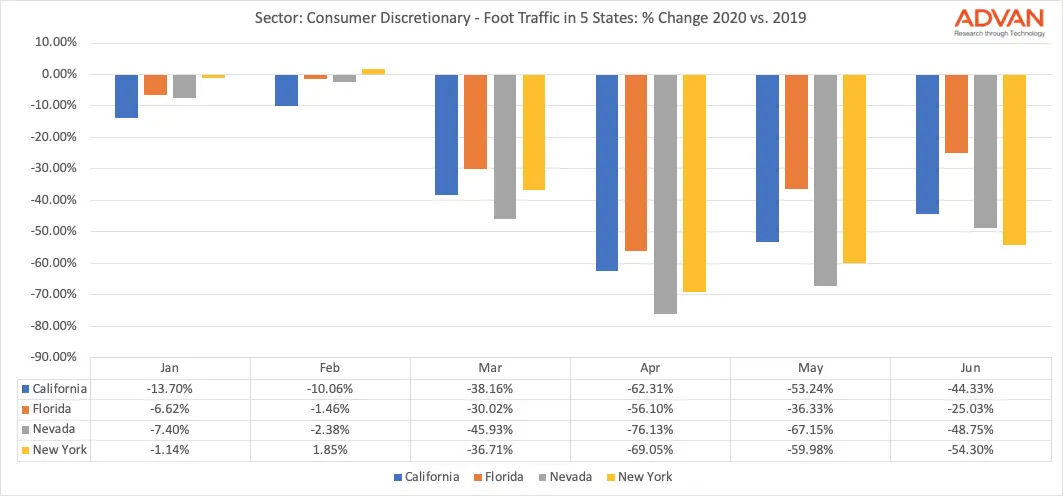 Looking at June, there are very clear signs that consumers are back in stores. New York still lags. But in Florida foot traffic is now only down 25% compared with this time last year. Heading into July, with a new outbreak of cases in the state, we will see whether the trend continues.
One measure that can often be a leading indicator for growth is factory traffic. If goods are being manufactured, this often - though not always - reflects demand along the supply chain.
Below we looked at foot traffic for two different factories - GM (autos) and Domtar (paper products).

While GM saw a clear and steep halt in foot traffic during the height of lockdown in March and April with factories halting production, Domtar saw a spike given the increased demand for paper products.
Fast forward to June and both factories have resumed normal activity as indicated by foot traffic levels returning to levels consistent with this time last year. It seems we have stopped hoarding toilet paper, and the automotive industry is optimistic that we will be back on road with renewed enthusiasm. Our data on miles driven in the US indicates they may be right.
In our next post we will review sectors that provide staples such as food and drugs.
For more detailed data please contact us directly contact us.