While the world seemingly shut down when the COVID-19 pandemic hit, grocery stores had a steadier path than the rest of the economy. On the other hand, many big box stores like Target, Costco, and Walmart, experienced a bit more volatility with higher highs, but also lower lows. Big box stores saw a 28.4% decrease in foot traffic in April 2020, but then jumped back up 28% the following month. On the other hand, grocery store foot traffic decreased only 18.4% from March to April 2020 and then increased just 3.7% the following month.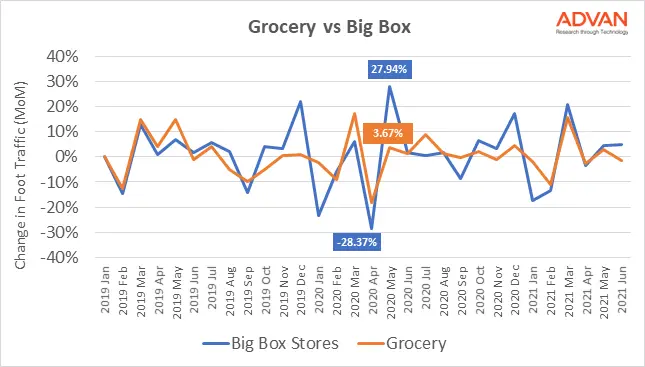 One of the main culprits for these major changes in foot traffic to big box stores during the height of the pandemic is that some stores like Target shortened hours or closed completely in hundreds of stores nationwide, while grocery stores never closed and many even extended hours for seniors. Another major reason for the decline in both groups during April 2020 was consumer fear of being in large, public spaces, which led to an increase in online grocery shopping. In addition to this, the biggest dips we see with grocery stores are predominantly triggered by chains on the east coast where the pandemic brought about the biggest changes in consumer habits, whereas southern and national grocers saw little to no difference in foot traffic.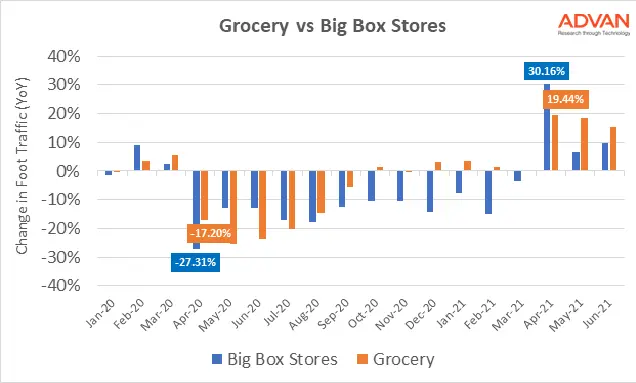 Even though both big box and grocery stores saw foot traffic drop 27.3% and 17.2%, respectively, in April 2020 compared to April 2019, both saw larger increases year-over-year in April of 2021. Because of this, we see that both groups experienced similar foot traffic in June 2021 as they did in June 2019 with big box at 95.6% of pre-pandemic levels, while grocery is catching up at 88.3%.